Amazing New Friends, and New Faith
Last week I tweeted a couple of seemingly random messages:
Absolutely amazed by God's grace. Gotta learn Farsi.. @CusterRoadUMC
— frankdrenner (@revfrankdrenner) July 24, 2014
(Farsi is also known as Persian, one of the predominant languages of Iran.)
Then the next day:
آیا می خواهید برای گرفتن تعمید
— frankdrenner (@revfrankdrenner) July 24, 2014
آیا می خواهید برای گرفتن تعمید means, in Farsi, "Do you want to get baptized?" (thanks, Google translator).
Why the interest in Farsi? Well it's kind of a complicated story with several characters. Every Sunday I spend a few hours "mugging" folks-- meaning a visit I make to every first time guest of Custer Road on the day they worship with us. I bring them a CRUMC coffee mug as a welcome gift. A few weeks ago I mugged Marci, who lives less than a mile from my house. She and her family came to America fourteen years ago from Iran. I met Marci's husband and son. Marci and her daughter are both baptized Christians. Their house is full of laughter, great food, exotic decorations, and hospitality. So much that as I left Marci packed me a huge plate of dinner to take with me. It was delicious.
Anyway, Marci has been attending worship at Custer Road with her friend Nazli. Nazli, her husband, and four year old son came to America a month ago from Iran to live with her sister and parents, who have lived here for eight years. After worship one Sunday Marci told me Nazli was interested in being baptized. I was leaving for Bridgeport camp, but gave her my number so we could talk upon my return. Nazli speaks very little English, but more than she thinks. The following week I received a call from Nazli's sister Shukova, inviting me to their home for dinner and to discuss Nazli's baptism. I met the entire family, and enjoyed a delightful three hour visit. I tweeted the message about learning Farsi after I left their home. Nazli was a lawyer in Iran, and her husband a civil engineer. They are here on a six month visa, and hope to stay. They both must start their educations completely over to continue their professional lives in America. Incredible. The next morning I tweeted the baptismal question in Farsi. We decided to baptize Nazli the following Sunday, July 27.
I preached that morning
(link to the sermon here)
on the challenges Christians face every day, specifically the sin of apostasy (renouncing one's faith, either as a choice or under duress from outside influence). I mentioned the ongoing crisis in Mosul (Iraq, not Iran; Christians have lived there peacefully for 2,000 years and have now been displaced), and shared the story of Miriam Ibrahim, a woman from Sudan charged and sentenced to death for apostasy after proclaiming Christian faith and marrying an American Christian.
Thankfully she and her family are now safe in the US
.
Around the world Christians are facing apostasy at the hands of others, while at the same time in this country a woman experienced the opposite: she proclaimed faith in Christ for the first time. At the end of the worship service Nazli came forward and was baptized. The congregation responded with joyful applause. She received dozens of hugs from folks who speak a different language, observe different cultural practices, etc.-- but who were now sisters and brothers in faith nonetheless. This was a cherished moment for her and for the church. After worship Nazli (white hat) and her family came to our home for lunch. Marci, the friend who brought Nazi to church, is crouching in front.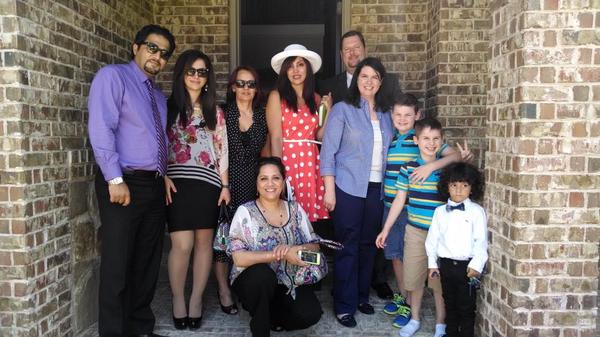 It was an amazing day, and the climax of a few weeks' worth of holy conversations, shared meals and stories, and prayers. At the end of the sermon Sunday I shared 2 Peter 1:5-10, words of encouragement for struggling Christians. The more I reflected on them the more appropriate they are, not just for the sermon but for the events of the last few weeks:
For this very reason, make every effort to add to your faith goodness; and to goodness, knowledge;
and to knowledge, self-control; and to self-control, perseverance; and to perseverance, godliness;
and to godliness, mutual affection; and to mutual affection, love.
For if you possess these qualities in increasing measure, they will keep you from being ineffective and unproductive in your knowledge of our Lord Jesus Christ.
But whoever does not have them is nearsighted and blind, forgetting that they have been cleansed from their past sins.
Therefore, my brothers and sisters,make every effort to confirm your calling and election. For if you do these things, you will never stumble.